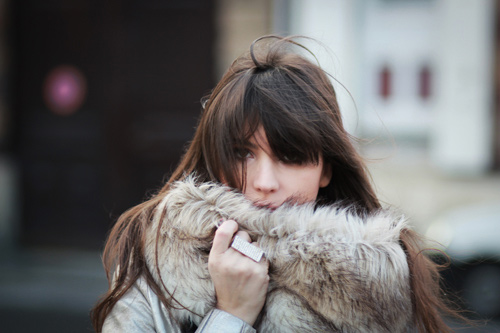 Bare neck , it 's the way I like to be ! I'm rather zen, not anxious at all, no phobia to declare … but really there's something that drives me mad, to have my neck covered ! I have a feeling that I suffocate. That's why I hate roll neck sweaters. I'm sure I could die of suffocation just wearing a turtleneck, a sort of rollneckphobia …
When I wrap myself up, be sure that I force myself  to endure it ! I have no choice, I find that sort of slouchy muffler so beautiful !
I finally found the strength to wear my snood, that is all the same rather big, so no risk of suffocation. I've got the « Final Destination » syndrome, I'm scared that my scarves rebel against me and that unfortunately I'll be found, hung with my snood !
Jacket : Maje
Shirt : H&M Men
Snood : Asos
Shorts : Bitching & Junkfood
Boots : Office
Ring : Asos
Bag : Mulberry
+++